Directions to the University Visualization and Animation Group (UVAG "VT-CAVETM")
For all of the images shown below you can view a larger image format for more detail by clicking on the image shown.
There are signs all along the way from the airport in Roanoke to Virginia Tech. Driving at the speed limit, it should take you about 45 minutes. From the airport follow signs that get you onto Interstate-81 going south. Below is a map that shows you how to exit I-81 at exit 118 and get to Blacksburg or you can now go past exit 118 and continue less then 1 mile to exit 188B which puts you directly onto 460bypass to Blacksburg.

Directions from Roanoke to Blacksburg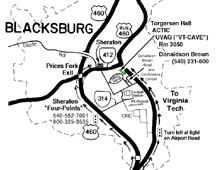 Click on image to get a larger image format.

---
Once you get onto campus the map below shows you how to get to the VT-CAVE, in 3030 Torgersen Hall. My office is in 3030C Torgersen Hall. Next door in 121-B Patton Hall, is my other office. Patton Hall is on the road that goes around the drill field. Guest parking requires a permit, so contact me and I''ll make necessary arrangements.
Map showing entire campus and VT-CAVE lab location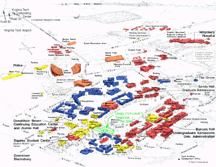 Click on image to get a larger image format.

---
The map below shows an expanded view of the Engineering section of the campus where I have pointed to Patton Hall and guest parking.
Map showing my Patton Office & Parking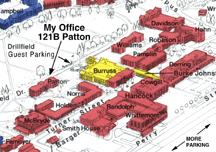 Click on image to get a larger image format.

---
Questions or comments, please contact rkriz@vt.edu

Return to Visualization Home Page
---
Ronald D. Kriz
Virginia Tech
College of Engineering
http://www.sv.vt.edu/visit/directions.html

Revised September 23, 2004
---