Project: Model Development for Virtual Environments
---
Techniques for an Effective VE conversion
VE Design Process
---
Techniques for Effective VE Conversion
When you create models for VE''s there are a few things that you should remeber. The following is a list of issues that you should remeber when producing a model.
When the CAVE deals with shapes it polygons it treats a shape as a series of triangles. Each triangle is considered a polygon. So when creating a curved surface it is improtant to remember that the smoother the surface the more polygons that are required. 3D-studio takes advantage of creating smooth surfaces through nurbs. Nurbs are not yet supported in Virtual Environments and the CAVE. So when you use the nurbs command when the model is converted the nurbs are turned into a series of triangulated polygons. This creates a larger polygon count slowing down the sumlation.

When copying an object in 3D-studio it is important that you create a copy not an instance. An instance referencing the original object but changes only its location in the three dimensional space. The converters for VE's do not support the use of instances in 3D Studio. If a model is converted using instances only the original object will show up in the model.

External references in 3D-studio are not supported in VE's. A program that supports external references in the CAVE is Multigen Creator. http://www.paradigmsim.com.

Hierarchy- Having a good hierarchy created in your model allows for effective manipulation and the ability to have interactivity between your models. Using the Group commands in 3D-studio allows for the managment of hierarchy for a simulation environment.

When mapping textures on the model you sould remember to keep them in power's of two. Then you can adjust the UVW coordinates in 3D-studio to create a realistic effect.
---
VE Design Process:
Below is a process in developing Virtual Environments for creating effective simulations. The process has been developed in five phases: Conceptual Design, Model Development, Simulation Development, Interactivity and Delivery.
Click on image below to review diagram of design process: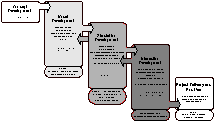 (insert Image)