Project: Cave Conversion Process for 3D-Studio
---
Introduction:
Throught the studies that I have performed on converters for use in VE's. I have deteremineed that the best solutions for a quality conversion with very little loss in data is through Polytrans. This program is available for unix and pc platforms. More information on this program can be found at www.okino.com. Whe using the product you must by the plug-in for exporting and importing Openflight (.flt) files. This is the file type that is best supporte in the CAVE. The steps below iwll outline how to convert your files into flt format using Polytrans. Once the file is in openflight format it can be read directly into the CAVE.
Step #1: Exporting as 3DS
Export the model that was created in 3D-studio as a .3DS file. This is located under the export command in the file menu. Things too remeber when exporting as .3DS:
All textures and filenames must be no more than seven characters.
External References are not supported
The Group command in Max is not supported in 3DS format. All objects will be exported as separate objects.
Step #2: Importing into Polytrans
You must go under the file menu and choose import and select .3ds.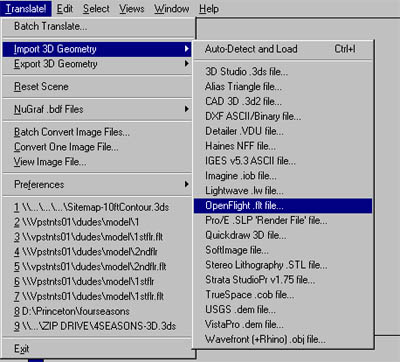 Find the file that you will import.
The following dialog box allows you to select what attributes you want to load.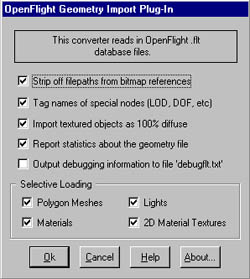 Click Ok when done.
Step #3 Export file as Openflight
You must go under the file menu and choose export and select Openflight .flt

The following pop up menu will come up..

Make sure that Openflight file format version is set to 14.2. This is the file format that is read directly into the CAVE.

Go to the Bitmaps Tag and set the following as the same as the image below.
Step #4 Convert textures
Download the following script and place it in your path settings. This script will automaticall convert all your textures to .rgb files and also scale the coordinates to powers of two.

To use the script make sure that the script is copied into the same directory as your textures or is set in PATH directory.

Type in the following:

converttorgb .jpg .tif (then the extension of the image files you would like to convert)

Your images will automatically be resized to powers of two.
Step #5 Running the Openflight file (.flt) in the CAVE
The file that you have converted in Polytrans can be read directly into the CAVE. Go to the directory of the model that you produced.
Then run:
Saranav -c -S .0083 filename.flt

-S is the scale function since the model was created in feet and inches saranav reads the fiels as one inch equal one foot.