Project Conclusions
---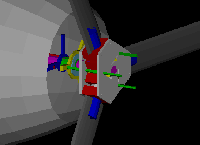 Final Design Files:
The main objectives of our project were accomplished:
Through the course of the project, we tried many AutoCAD techniques, some that worked and some that did not. We experimented with AutoCAD and the CAVE, and through the design process, ended up with a greater understanding of both systems.
Using our experiences during the project, we established some basic guidelines on using AutoCAD and the CAVE. Which functions work better than others, how to use the solid-modeler, and some recommendations.
We established step-by-step instructions for converting .DXF AutoCAD files into .PFB CAVE (Performer) files. Through the project, Heath Beres, wrote a script to speed up the tedious process of command-line conversion utilities. This script is also available.
The Data Visualization project was done in conjunction with our Senior Design Phantom II Submarine project. Using AutoCAD we modeled a portion of the submarine, and our entire Senior Design propeller system. We took our model and brought it into the CAVE successfully. We hope this type of design process can be incorporated into future submarine team projects, so they can visualize the entire submarine before construction even begins.
To make our findings more accessible and available, we designed this web page and made some of our files available.
---
Written By:Heath Beres

Page Last Updated: 4/30/98

---